Indianapolis Airport 12.5 MW Solar Project - A Magnificent Landing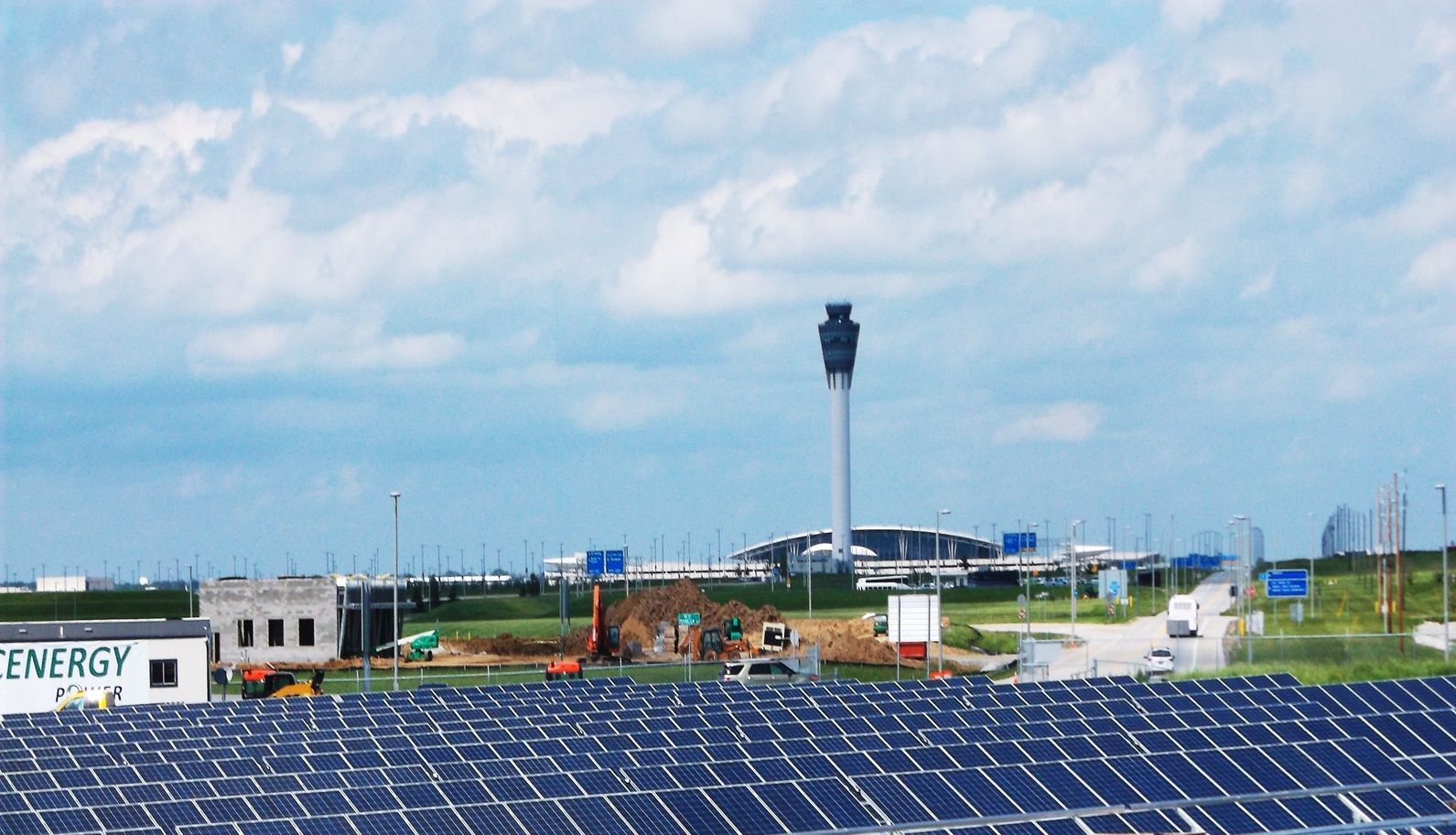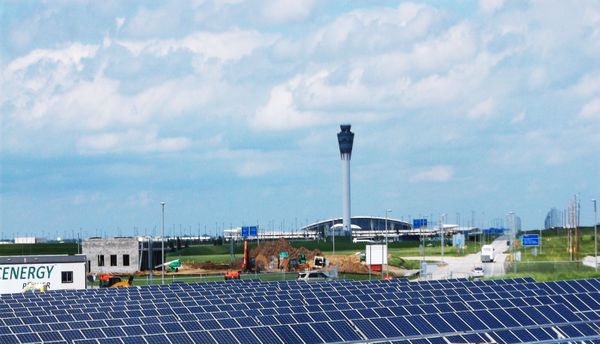 By: Frank Andorka, Solar Power World
Weary travelers landing at the Indianapolis Airport will now fly over 60 acres filled with 41,000 silicon solar panels shimmering in the sun.
Thanks to the dedication and passion of the companies involved, the project — currently the largest airport installation in North America — provides a high-profile siren song for other commercial projects throughout the United States to join the solar revolution.
"Indiana runs mainly on coal, so a solar project of this size and visibility will have a ripple effect in this state and others around it," says Vincent Liu, head of Telamon Corp.'s solar division. Telamon provided development and financing assistance on the project. "If it can happen here, it can happen anywhere. We hope this becomes a bellwether project that expands solar beyond the traditional states."
Why Solar At The Airport?
According to the Indianapolis International Airport (IIA) Authority, the airport is always looking to maximize its land use, both to serve travelers and generate revenue for Indianapolis. When the idea of using 60 acres of land near the airport exit from I-70 for a solar farm presented itself, the authority quickly jumped at the chance. "The [IIA] solar farm is just the latest innovation in our land-use strategy moving toward implementation," John D. Clark III, executive director and CEO of the Indianapolis Airport Authority (IAA), said in a 2011 press release announcing the project. "It supports our commitment to sustainability while helping to grow and diversify our revenue stream. Finding productive and harmonious uses for airport land ultimately aids our efforts to attract and maintain the air service that anchors the IND Aerotropolis and generates economic benefits throughout our region."
Once airport officials were on board, the project went out to bid. Five engineering, procurement and construction companies (EPCs) bid for the project. Ultimately, Carlsbad, Calif.-based Cenergy Power won.
Our client said we won the bid based on our value proposition, solar engineering experience and medium voltage interconnection know-how
"Our client said we won the bid based on our value proposition, solar engineering experience and medium voltage interconnection know-how," says Bill Pham, Cenergy's CEO. "We were asked to value-engineer the design to minimize material, labor and interconnection costs, meet an aggressive construction timetable and optimize the layout to meet Federal Aviation Administration (FAA) and local jurisdiction requirements."
Before the team could install a single panel, however, the project had to secure financing. Fortunately, Telamon brought its long-standing experience to solve the problem.
"Any utility-scale project developer knows that financing is always the key to a successful project," Telamon's Liu says. "It requires involving companies with strong balance sheets and who have a proven track-record. We were able to show those kinds of companies for this project."
Bankable Companies
All the component manufacturers, including Solectria Renewables, have such track records. Solectria in particular took pride in being specified for the project, providing 20 of its SGI 500XT inverters.
"We were not specified for the project in 2011 when it originally crossed our desk," says Allison Duffy, regional Business Development Manager for Solectria. "As Cenergy looked more closely at what we could provide, they changed their minds — and we were thrilled to assist."
Until the completion of this project, Indiana only had around 3 MW of installed solar. This project itself quintuples that size, Duffy says.
"We believe a high-profile project like this will push the industry forward into other airports, which we hope will present the industry to more people and highlight the positive effect it has on local economies," Duffy adds.
Despite some of the challenges of working with a governmental entity on the project — including stringent requirements for safety, security screenings and limiting work hours — the project went smoothly, says Cenergy's Pham.
"They run an organized airport in Indianapolis," Pham adds. "The coordinators on their end were reasonable and great to work with. Otherwise, it could easily have become a nightmare."
Cenergy Power will also be handling the critical operations-and-maintenance operations for the project, which is being handled on an as-needed basis.
"We are using local labor for routine matters, which provides jobs to local contractors," Pham says. "More complex troubleshooting will be handled directly by our engineers and engineering technicians."
Telamon's Liu says his company is proud of the project and the partnerships it was able to create that he believes will help them land future projects.
"The key on a project this large is to be persistent and have faith," Liu says. "There are always uncertainties that can kill a project of this size. Build strong partnerships, don't nickel-and-dime every aspect of the project and make sure the financing partner is dependable. If you do those things, you increase your chances of success immensely."
Indiana Power & Light will purchase the electricity from the airport under the terms of a 15-year power purchase agreement (PPA) and feed it into the grid.

Indianapolis Airport Solar Farm Fast Facts:
Power Produced: 12.5 MW (41,000 panels)
Land: 60 acres
Power Purchaser: Indiana Power & Light
Oversight: Indianapolis Airport Authority
Financing and Development: Telamon
EPC: Cenergy Power
Panels: Sharp Corp. and General Energy Solutions
Inverters: Solectria Renewables
Racking-and-Mounting: Schletter